Karakoram Prime Strightline Splitboard Binding
Regular price
$819.99
Save $-819.99
/
---
If you like to point and destroy lines, this is the snowboard binding for you. Our stiffest and most responsive binding, complete with our carbon fiber highback. The Straighline will charge down any condition the mountain throws at you.
Rider: Jason Robinson  Photo: Darcy Bacha  Location: Montana
SPLITBOARD BINDINGS – TECHNOLOGY
ACTIVE JOINING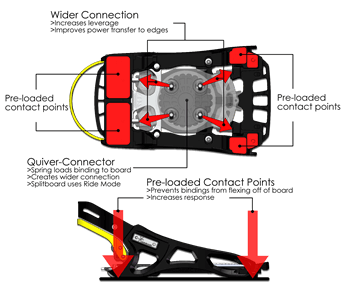 NO SLOP— INSTANT RESPONSE.
Pre-loaded binding to board connections give instant response. The most responsive connection for snowboards and splitboards.
DUAL RIDE-STRIDE
RIDE, TURN, STRIDE.
Quick 1/4 turn from ride mode to walk mode
Ride Mode: 0° to 22°, in 2° increments
Surf Mode: 0° or 11°
Walk Mode: -8° allows for longer stride
CARBON HIGHBACKS
FEATHER WEIGHT SUPPORT.
Stiff Flex (10 of 10)
Biaxial weave carbon fiber and multi-layer layup give optimal combination of stiffness and comfort
Dual Ride-Stride Forward Lean adjustment for Splitboarding
Flex-Lock compatible

 

for Splitboarding
OPEN CHASSIS
NATURAL BOARD FLEX.
Open chassis allows board to twist naturally under binding
ACTIVE JOINING
INSTANT RESPONSE.
Pre-loaded binding to board connections give instant response.
DROP ON CHANGE-OVERS.
Active joining allows for a loose fit then closing the lever locks your binding to board, removing all play from the system.
NO SLOP.
INTERLOCKING SEAM TABS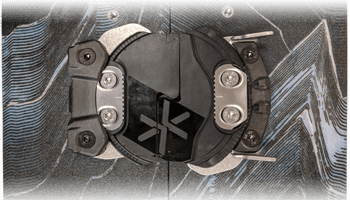 NO SEAM SEPARATION.
Seam tabs interlock across the seam of your splitboard interlocking and pre-loading the seam.
SNOW EJECTION CHANNELS
EASY SNOW CLEARING.
Made from a carbon infused nylon, the Ride Mode 2.0 is designed to reduce snow build up and clear snow easily.
FLEX-LOCK
2.0 X EDGE GRIP.
Tour faster using less energy. Use the boots you want to ride in. Ride like a snowboarder. Tour like a hard booter.
TOUR MODE
TIGHTEST AND SMOOTHEST TOUR PIVOT.
Independent sleeves rotate freely on a fixed through axle (similar to a bike axle) for the stiffest and smoothest touring pivot
Wide support cradle increases tour mode rigidity
Offset cradle allows snow to clear during entry
Quick release touring bracket allows for quickest and simplest transition
DUAL SPEED RISERS
POLE BASKET FLIP.
Flip up with pole basket; simple and easy
Dual height climbing risers
LOCK YOUR HEEL.
On-the-fly heel lock down
Release load equivalent to DIN 6
Heel-Lock folds out of way when not needed